The addable mattress is a quality product with a low price created by the owners of the spindle so; it will be an amazing value product.

It is super cozy and comfy in terms of slight sinking in feeling and you will love it if you want to try a soft yet firm mattress.

This mattress contains high-density foam layers which are very durable, and it is difficult to find this much durable material at a low price.

It is the right choice for you if you keep on changing your sleeping positions throughout the night.
Get $50 off on Addable Mattress as our reader
7,639
Verified Customer
Experiences
If you want to have a comfortable sleep time, then a good choice of mattress is the key. In the mattress industry, there are a lot of companies providing their best products. The most important point is a comfy mattress at a reasonable price.

The addable mattress is one of the best options according to these considerations. This addable gel memory foam mattress review will include complete information about the level of comfort, support, motion isolation, warranty, and price with the sizes available.
The addable mattress is well constructed and worth the money you spend on buying it. The super interesting thing is, designers of the addable mattress did not use any kind of high-quality tech yet providing a luxurious level of comfort at an unheard price. Are you thinking 'HOW?' Do not worry, I am going to explain all your concerns in detail.
People who share their beds with children, pets, or with a partner will not have any problem due to its second transitional layer. Heavier peoples can also have a cozy sleep without any 'trapped in' feeling which is very common in other cheaper mattresses. It is easy to change position due to medium firmness and good for side, stomach as well as for back sleepers. Isn't amazing?
If you are worried about sleeping a hot situation then let me tell you addable mattress is little to no sleep hot mattress. So, if I say the addable mattress is a great choice as it offers a very low price rate with quality products.
Construction ( Cover & Layers )
Cover – The addable constructor was very focused on every minor detail on the cover of the mattress. Because of this fact, the cover selection is also made carefully and selected the cloth which further increases the comfort level of the consumer, a sense of aesthetic as well.
So, the cloth chosen for the cover of the addable mattress is the blend of 66% polyester, 30% viscose, and 4% poly/lyre with a two-tone purple and white pattern which gives the effect of purity and finesse to the observer.
An additional feature of this cover is that it is removable and washable. So, whenever you find the cover dirty then you must just zip off the cover and wash it.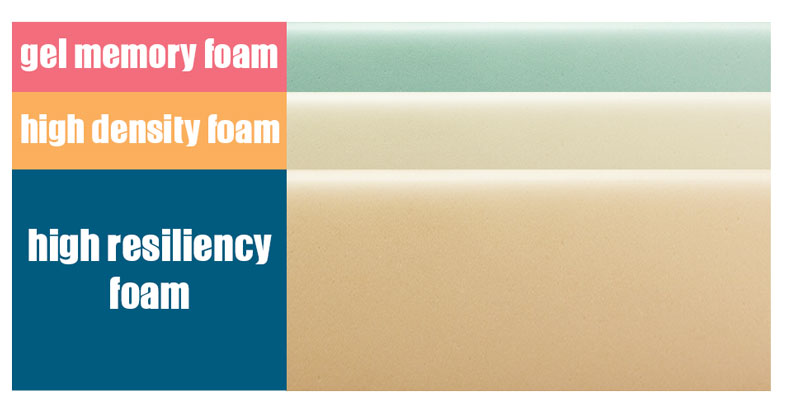 Layers – The top layer of the foam which is called upholstery or comfort layer comprises two layers i.e. the primary and the second layer.
The primary layer consists of 4 PCF gel memory foam with an indentation load deflection (ILD) of 12 which removes heat away from the body; whereas the second layer comprises 1.8 PCF high-density (HD) Polyurethane foam with an ILD of 20.
Then next comes the turn of core or support layer. The significant role of this layer is that it supports the sleeper's body and is manufactured from 2.01 PCF high-resilience (HR) Polyurethane foam with an ILD of 36. The high-resilience poly foam also works with the top upholstery or comfort layer to provide transitional support.
Now the third and the last layer comes which is the foundation of the bed. In the construction of the third layer for the core support of the bed 6 inches thick poly base foam is added having a density of 2PCF.
Firmness /Feel /Bounce & Edges support
If we calculate the firmness on the scale of softer to firmness, then it will fall into the category of medium-firm rating like 5 or 6 out of 10. The reason behind its firmness is because of the presence of gel memory foam combined with the high-density polyfoam.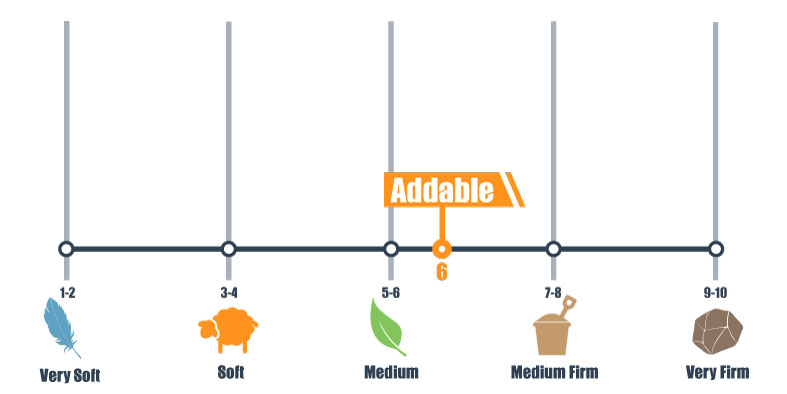 A combination of these two foams not only provides great support to the body but also makes sleeping comfortably for all sleeping positions.
Similarly, all those people who weigh 40-400 lbs are full of praises of this mattress. As it slightly sinks under their weight but then bounces back to its earlier position once they get off it.
Furthermore, this mattress is not the right choice for someone fond of the floor like firmness. You may find the addable mattresses a little softer but not too much like the sink in or trapped in feeling as compare to other soft mattresses.
Edges Support
The three layers which are used in the manufacturing of the mattress are strong enough to support the middle and the edges of the mattress.
Therefore the sleepers who sleep near the edge of the bed will be delightful to note that after regular sleeping on the edge these mattress edges don't roll off. However, if any heavyweight person will sit on the edge then it will slightly compress.


The addable mattress is an easy and comfy option for all positions of sleep. As you know most of us are side sleepers, addable provide top layer which supports hips and shoulders better than other mattresses. But it is easy to switch your position to back or on the stomach, it will give you some comfort.
If you are a heavy person, you may experience compressed condition if you are sitting or lying on the edge of the mattress but not bottom in or rolling off.
Motion Transfer & Sleeping Suitability
The addable mattress is classified as a mattress of sleeping in feel rather than sleeping on the top of the mattress. Usually, mattresses formed by latex material do so, but it is not happening with addable mattress. 
The addable mattress has a medium sink age feeling especially if you are a heavy person. But as we always say that motion transfer is directly proportional to the weight of the person who using the mattress. It plays a big role in how the mattress will react to a person even if you are not too heavy.
The Motion transfer is negligible. This mattress is especially recommended for light sleepers who wake up from movement.
If they share this mattress with their partner, they won't feel the slight movements resulting in having a sound sleep throughout the night.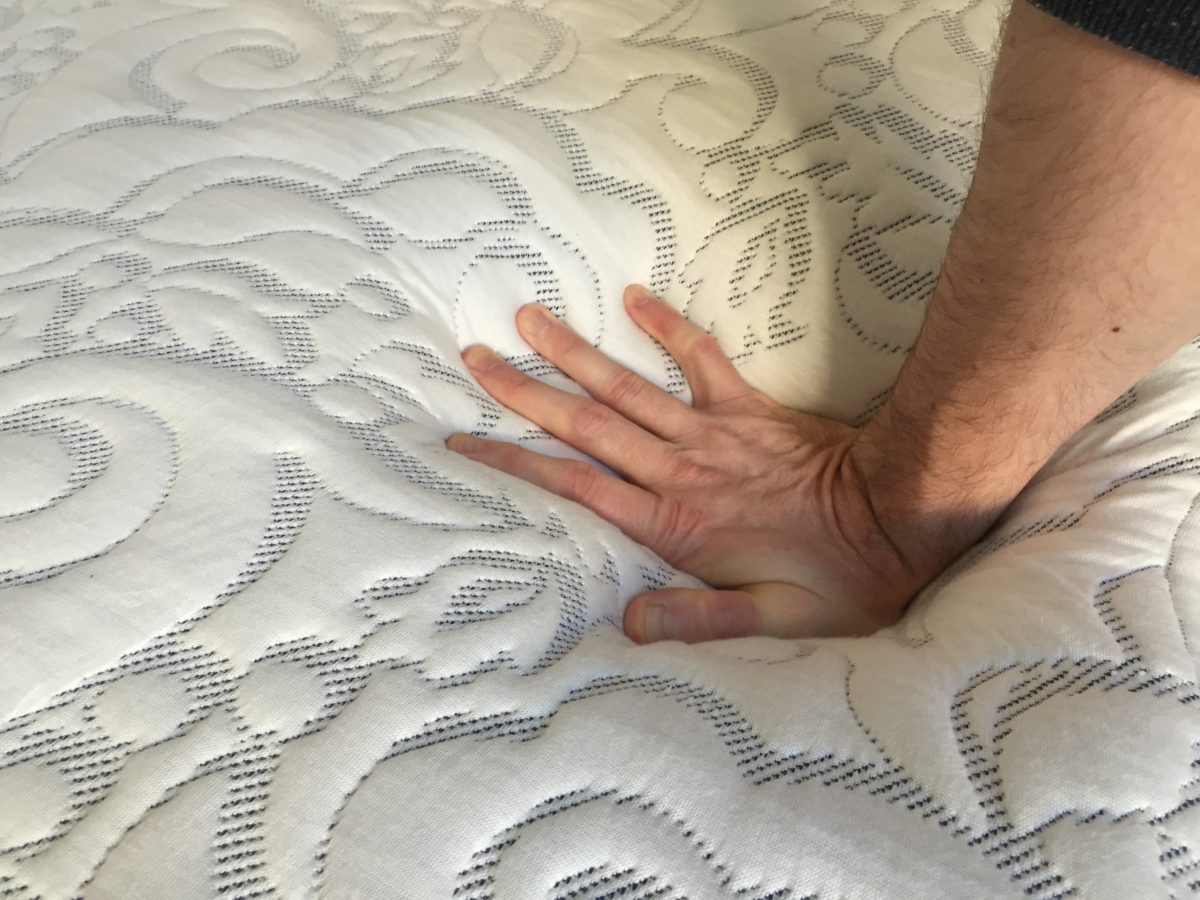 Gassing Off
It is also an important feature of addable mattress that it does not have much gassing off problem up to great extent. But if you observe a little smell issue with this mattress it will be solved in no time.
Design Modification 
'Spindle', the owner of Addable is in the business of mattresses making for a very long time. Earlier they were venturing into the market by providing 100% Latex mattresses but by following the changing trends, two years back they started a new venture from the name of the Addable.
Under the name of Addable, manufacturer brought following modifications in the earlier made designs like, it is made up of best class gel memory foam, this mattress offer firmness along with comfort, it doesn't sink deeply, it reduces motion transfer, provide feel of memory foam and you are getting best quality product in a reasonable price.


Factors You Should Note While Buying It
While selecting the mattress, customer top preference is always a comfort. Fortunately the moment addable hit the market, it never disappointed its customer's expectation of comfort.

Another major feature of the addable mattress is that it's very soft. If you make a comparison of it with other soft mattresses available in the market, you will notice that it is soft to the degree that its softness doesn't hurt and feel dissatisfactory to the body which other soft mattresses do.

If you are a side sleeper then it offers you the soft firmness but if you are a back and stomach sleeper then it offers you firmness which doesn't sore your back.

Less Sink age is another interesting feature. If you sit on it, you will feel that your body sinks in just enough but not to the degree where you feel that your body sinks in a hole.

The non-sink age of the body in the hole is because of the formation of the middle two layers of HD. These two layers not only provide a good amount of support to the body but also improves your spinal alignment.

 

 The motion transfer is witnessed quite low in an Addable in comparison to other mattresses. So if you are sharing your bed with a partner, then this mattress is an ideal solution for you as you will only feel a bit of motion of your partner but not much.

The top layer is formed of the gel foam layer due to which it reduces heat retention and makes sleeping comfortable on it.

The mattress is quite durable due to the presence of high-density foam in it.

The price which it quotes for its customers is very reasonable as compared to the other companies' mattresses possessing the same properties.

One of the unique characteristics is that it offers you 181 days sleep trial opportunity which is extendable. Once you properly evaluate the mattress and still not feel it according to your expectations then you can return it to the company and enjoy 100% of your purchase price.

Addable mattress, along with affordable price and refund, also offers its customers 10 years warranty period. Shipping in the whole USA is free!
Addable Mattress Size & Price
Size – The spindle is in the business of mattress formation for more than a decade. The reason behind their staying in the business for such a long period is that they never compromise on their set standards of quality and the customer's satisfaction is always their top priority.
For the comfort of their customers, they keep on evolving their products according to the customer demand and new market trends.
All the mattresses which are being produced by Spindle are of standard sizes like Twin, Twin XL, Full, Queen, and King. These sizes are designed according to the standard bed sizes which are available in the market.
Price – Similarly, the cost is very reasonable as compared to the luxury which it offers. If the price is compared with other mattresses of another brand, you would be surprised to find out that you are getting the best quality gel memory foam and not just a poly or regular memory foam at a very affordable price which other brands don't offer.
The verification which you see in the prices of these mattresses is due to mattress density, weight and size.
Please find below the five sizes of mattresses along with their dimensions, height and price range.


| Sr | SIZE | DIMENSIONS | HEIGHT | |
| --- | --- | --- | --- | --- |
| 1. | Twin | 37 1/2W" x 74 1/2L" | 10″ | |
| 2. | Twin Extra Long (XL) | 37 1/2W" 79 1/2L" | 10″ | |
| 3. | Full | 52 1/2W" x 74 1/2L" | 10″ | |
| 4. | Queen | 59 1/2W" 79 1/2L" | 10″ | |
| 5. | King | 75 1/2W" x 79 1/2L" | 10″ | |



Warrenty & Other Information
The warranty period starts the very same day the mattress is being delivered to your doorstep and lasts for 10 years. During the warranty period, the company is bound to repair or replace the mattress if 1-inch visible compression in the material appeared or if the mattress foam cracks or split.
Furthermore, at the time of warranty adjustment, the customer needs to provide an original receipt and the law label from the defective product.
All sizes are shipped compressed, vacuum-sealed and in a box. There are no charges of shipping and the medium used to ship Addable is FedEx Home Delivery services. Mostly the package arrives at your doorsteps within 10-14 business days.
As it is a consumer-friendly brand. So, its owner gives its consumer 181 days trial period for all its mattresses as compared to other brands which mostly gives you 100 days trial period.
This 181 day trial period is extendable up to an additional 40 days and 40 nights. Even then if the consumer doesn't get satisfied then they have the choice of returning this mattress to the company and can avail 100% refund of their purchase price.
Unfortunately, some customers are mis-using our act of kindness and playing the game of mattresses buying and returning. It is a bad act morally, try to not do this if you are looking for a mattress!
Addable was founded in 2016.
Addable Mattress Review - Conclusion
The mattress is a well-designed, comfortable and supportive mattress.

It's a good recommendation for those who don't want to pay an arm and leg for quality materials and manufacturing of the mattress.
The addable along with firmness also offers softness.

It supports all sleeping positions like sides, stomach and back and especially ensures that spinal alignment doesn't get disturbed and cause pain.
The mattress is also ideal for couples as it has less sink age and limits the motion transfer of the sleeper.
Now I hope this Addable mattress review will be quite helpful for you to make the right choice of mattress.